Mastering of the art of roasting!
For over 25 years now, Brûlerie des Monts has been known as a distinguished roaster in the Laurentides as well as a meeting place for all those who love excellent coffee.
The Brûlerie's success story and renowned reputation is known far beyond the borders of the Laurentides. Their sublime house coffee blends line the shelves of a growing number of grocery stores in Quebec and are exported throughout Canada and the world.
At Brûlerie des Monts, our main goal is both simple and ambitious: to offer you the best coffee, all the time! As a master roaster, we are committed to offering you exceptional coffees, from our popular house blends, refined and rich in aroma, to the most sought out blends imported mainly from Central America, Africa and Indonesia.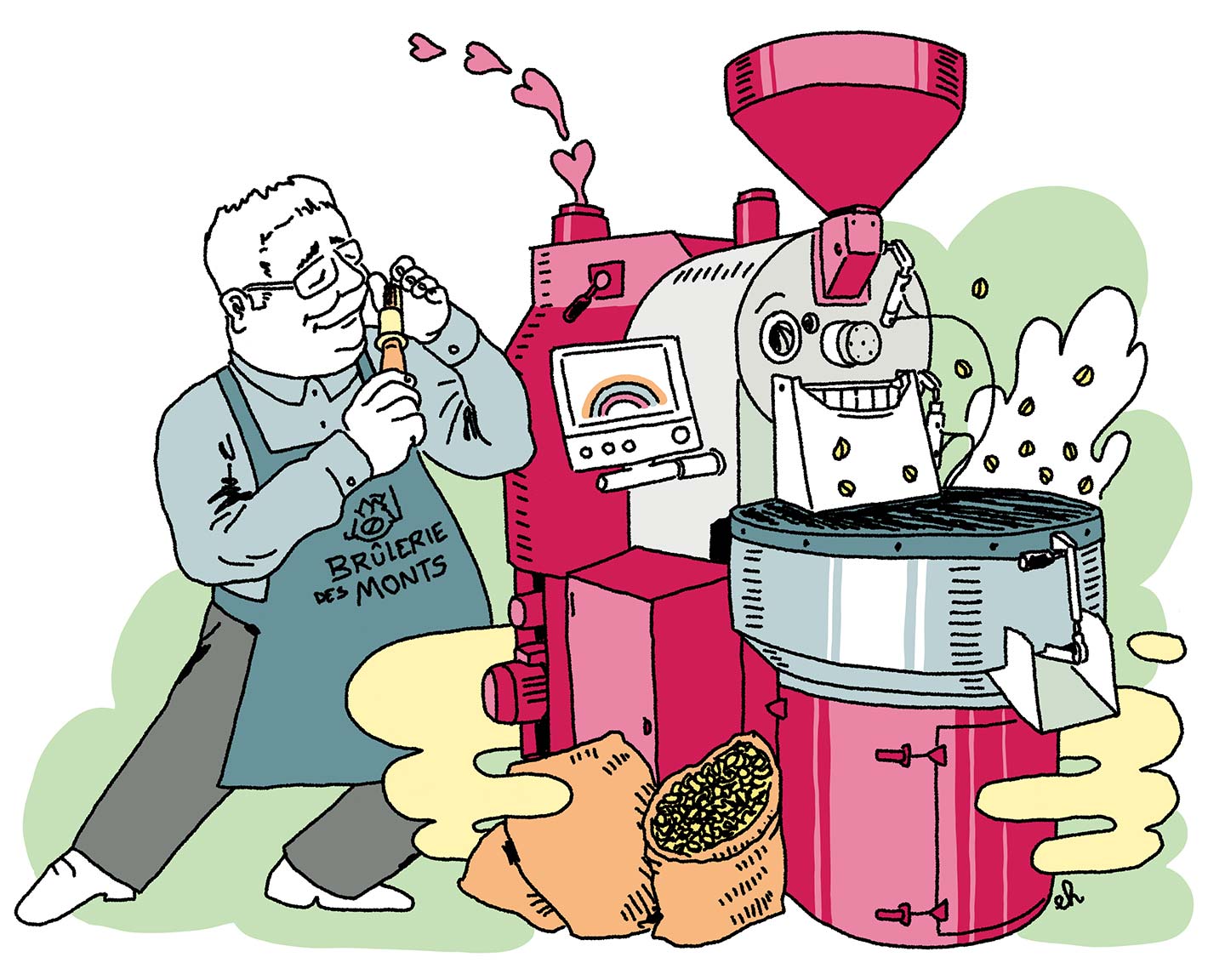 Our Philosophy:
Respect the Product
At Brûlerie des Monts, we firmly believe that an industrial procedure could never replace the art of traditional roasting. For us, each coffee bean has its own story and our role as a master roaster is to bring it to life it through a respectful approach.
In order to get the best flavour out of the beans, our master roasters treat each roast individually, based on Brûlerie des Monts' unique technique. There are three different roasting levels that define our roasts. We reproduce them consistently for each coffee without ever adding water at the end of the roasting process. This way, every sip is truly sublime!
Brûlerie des Monts also pays special attention to the freshness of each coffee and regularly rotates their products.
With their goal of respect for the product and for coffee producers in mind, Brûlerie des Monts often also makes micro-batches. These highly perfected, quality coffees respect the working conditions of small producers, who have total control over the entire production process.
These specialty micro-batches are made from environmentally friendly harvests. Producing micro-batches ensures first-rate quality: beans are selected by hand and the extraction of beans from the cherries is done manually according to the yellow, red or black honey processes, which helps bring out their sweeter tasting notes.
Our social and environmental
commitments
Brûlerie des Monts takes several social and environmental initiatives to do their part in promoting sustainable development.

Brûlerie is also a member of the Specialty Coffee Association of America (SCAA), an NPO regrouping thousands of coffee professionals from producers to the greatest baristas in the world.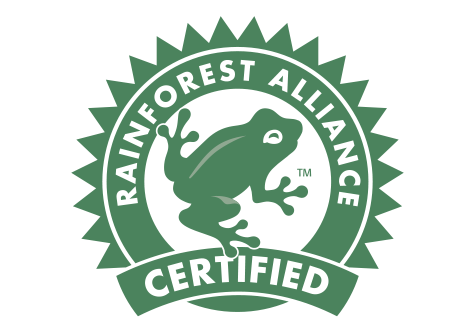 Brûlerie also offers certified Rainforest Alliance coffees. Rainforest Alliance is an international NGO that works to conserve biodiversity and sustainability in agricultural production around the world.
100% compostable
Our takeout coffee cups are also 100% reusable and compostable, which makes Brûlerie des Monts one of the only café-bistros in the Laurentides to offer such eco-friendly containers.
Brûlerie des Monts is highly involved in the community and donates coffee all year round to the organization Soupe et compagnie des Pays-d'en-Haut and to the Chambre de commerce de la Vallée de Saint-Sauveur, of which Brûlerie is a member. They also provide coffee during the events organized by the city of Saint-Sauveur.