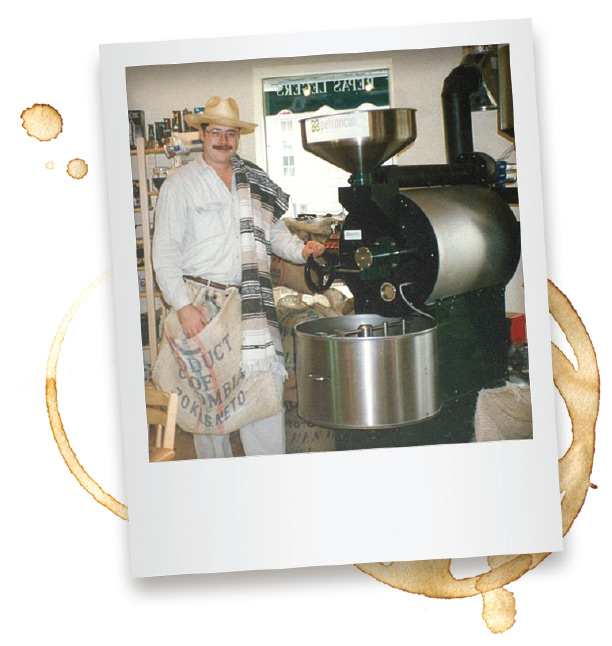 Our Story
Discover the story behind our roasting house.
A success story, 25 years strong!
Brûlerie des Monts is an artisanal roasting house in the heart of Saint-Sauveur's downtown core. In the warmth of the Brûlerie's friendly atmosphere, coffee lovers and patrons from around the world gather to share precious moments and enjoy the perfect treat.
Brûlerie des Monts, a must-visit gourmet destination, is one of the very first café-restaurants and roasting houses in the Laurentides.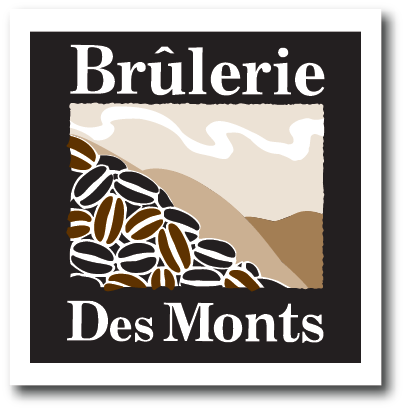 Brûlerie des Monts is a story of passion; the passion that founder Howard Sauvé has for his profession and that is behind his business's continued success.
Howard Sauvé spent nearly fifteen years perfecting his roasting skills in Montréal before accomplishing his dream on June 30th, 1995, when he opened his own artisanal roasting house where he could finally share his passion and serve the best coffee in the Laurentides.
Brûlerie des Monts is a story of love and support between Howard and his wife, Elizabeth-Ann Cochrane – affectionately known as Betty – a precious ally in Brûlerie's adventure.
Brûlerie des Monts is a story of connection with the beautiful region of Saint-Sauveur where Betty grew up. It's also a story of love at first sight with the ancestral building in the heart of downtown Saint-Sauveur, nestled at the corner of Principale and De L'Église.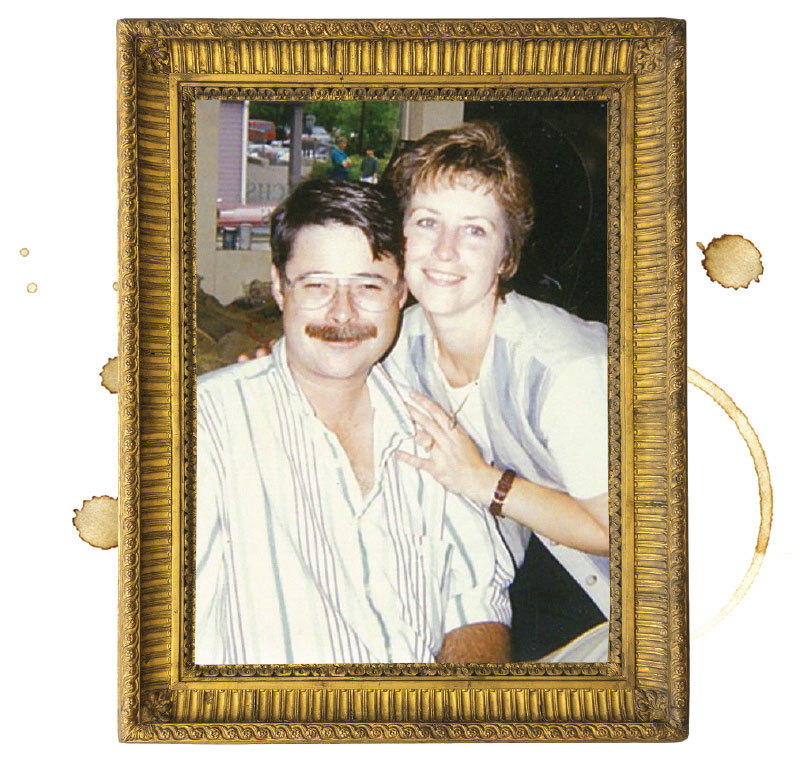 Brûlerie des Monts is a family story of a tightly knit team with a common goal: to welcome and serve our clients with a smile, but also with the very best coffee!
Each one of our team members has an important role to play in the success of the business. Many of our employees have even been with us since the very beginning, and their rich experience continues to contribute to the success of our roasting house.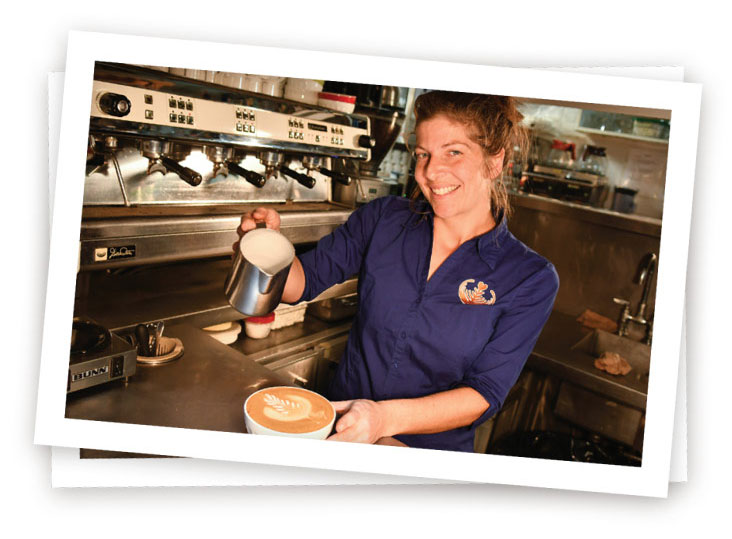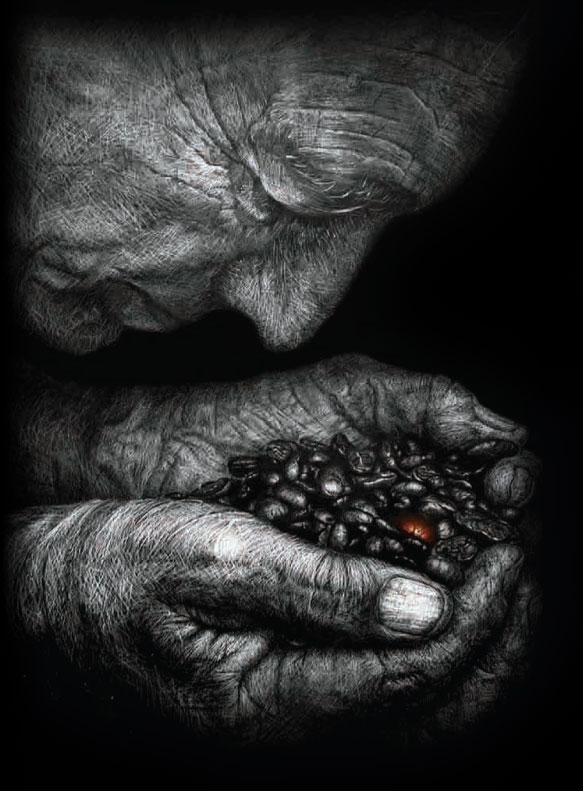 What better to represent the art of roasting
than a work of art itself?
Le Sniffeur, which you may have seen on our coffee bags, is the reproduction of a large format piece sketched by wooden pencil by the very first roaster to work at Brûlerie des Monts. Le Sniffeur represents the sensorial relationship between the roaster and the product during the coffee bean roasting process.
In fact, since the very beginning, long before automation processes existed, the sense of smell has helped roasters determine the exact degree of roasting in order to bring out the best flavours and aromas. You could even say that the roasting process uses a 6th sense: intuition! Roasting is an art, an art that we master thanks to our skill, our passion and our rich experience!
Le Sniffeur, proudly displayed in our dining room, has become a kind of emblem for Brûlerie des Monts. It symbolizes the tradition of respect that we have towards our product.
For Howard Sauvé, the love of coffee is a pleasure that's meant to be shared. The founder sees his role as that of a mentor rather than simply an owner.
Over the years, the master roaster has introduced a great number of employees to the profession, sharing the subtleties of the art of roasting. Many former employees who were introduced to roasting at Brûlerie des Monts have even opened their own roasting houses across the country and have had great success! This is an incredible source of pride for the owner.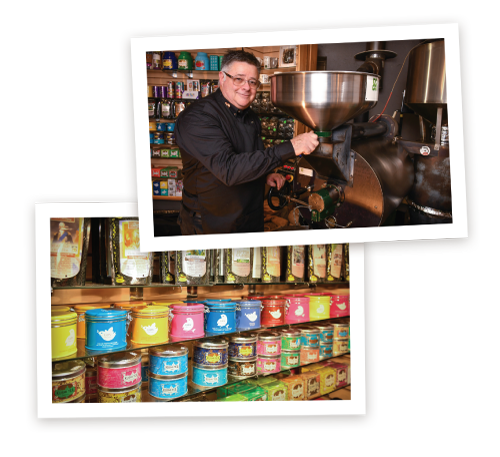 Brûlerie des Monts is a story
to follow, and you are
all a part of it!
Our dear clients, partners and friends, without you the Brûlerie's story could not have been written! Thank you for your encouragement, your unwavering fidelity, and especially your continued presence which brings our roasting house to life and makes it a place to gather and share. You give true meaning to our work, and fuel our continued search for the highest quality.
Though our roasting methods may be artisanal, we also keep up with the times. We are both proud of the path we have taken, and focused on the future: we are always looking for ways to evolve. This is why our roasting house works to grow our markets through our online store, with the goal of sharing our quality coffee with the largest number of coffee lovers possible!